Get the Fastest, Most Accurate, Lowest Cost Warehouse Operations with Upimium Warehouse Management System
– Get control over every physical movement in your warehouse
– Build the most efficient processes you can imagine
– Track your results
– Make the process better
– Never stop improving
Give your workers the power to work smarter and faster
Our smart phones have put enormous information power in our pockets and boosted our personal productivity enormously, but in the overwhelming majority of warehouses, workers are walking around guided only by a piece of paper. Isn't it about time that your warehouse caught up with the 21st century?
​Now, in the same way that your smartphone boosts your productivity, Upimium puts the power of your warehouse information in the hands of your warehouse team so they can work smarter and faster with less frustration and less errors. Upimium WMS has a huge ROI for most businesses moving from simple paper order processing particularly high volume and complex operations.
Upimium can be hosted your way:
– On your own server on premises or in the Cloud.
– In a multi-tenant Cloud system managed by Logistics Help. Suitable for most small to medium businesses, especially eCommerce and small 3PLs and logistics businesses.
– On a dedicated Cloud server managed by Logistics Help. Suitable for larger businesses who need customisation and  are already using Cloud systems and don't want to manage the IT infrastructure
Boost your productivity by 30% and increase accuracy
Warehouse management systems have been around for a long time now and when implemented well*, they deliver productivity gains of 30% or more (compared to a paper system) with 99.9% inventory accuracy and 99.9% order fulfilment accuracy.
Online retailers with labour intensive small order processing may do even better.

Third Party Logistics businesses can get out of spreadsheets and cut their admin costs and headaches with activity billing and labour management.

Keep control of your customer relationship by managing your own fulfilment for less than the cost of outsourcing to a 3PL
* Warehouse optimisation requires a combination of process redesign, infrastructure improvement and technology implementation. Just adding technology to your existing operational methods will not produce the results you are hoping for.
It's time that your warehouse caught up with the 21st century!
All stock and movements are tracked in real time with accuracy built into the process with barcoded items and locations.

There is no paper to lose, no paper data entry errors and no time delays between physical actions and system confirmations.

Step by step workflows guide your warehouse workers to follow consistently efficient processes.

​Casual staff will come up to speed very quickly as the workflows are easy to learn and the system is your procedures manual, your staff have to follow the standard procedure and you can monitor their results.

Advanced picking methods cut travel distance with guided picking of multiple orders in each pass through your warehouse.

​You could pick fifty or more online orders in one pass then pack and ship them quickly and accurately, achieving productivity similar to multi-million dollar automated goods to the man systems for a tiny fraction of the cost.
If you are unfamiliar with what a warehouse management system is and does you can read more here
What it's like to work with Upimium WMS
Upimium WMS Quick Overview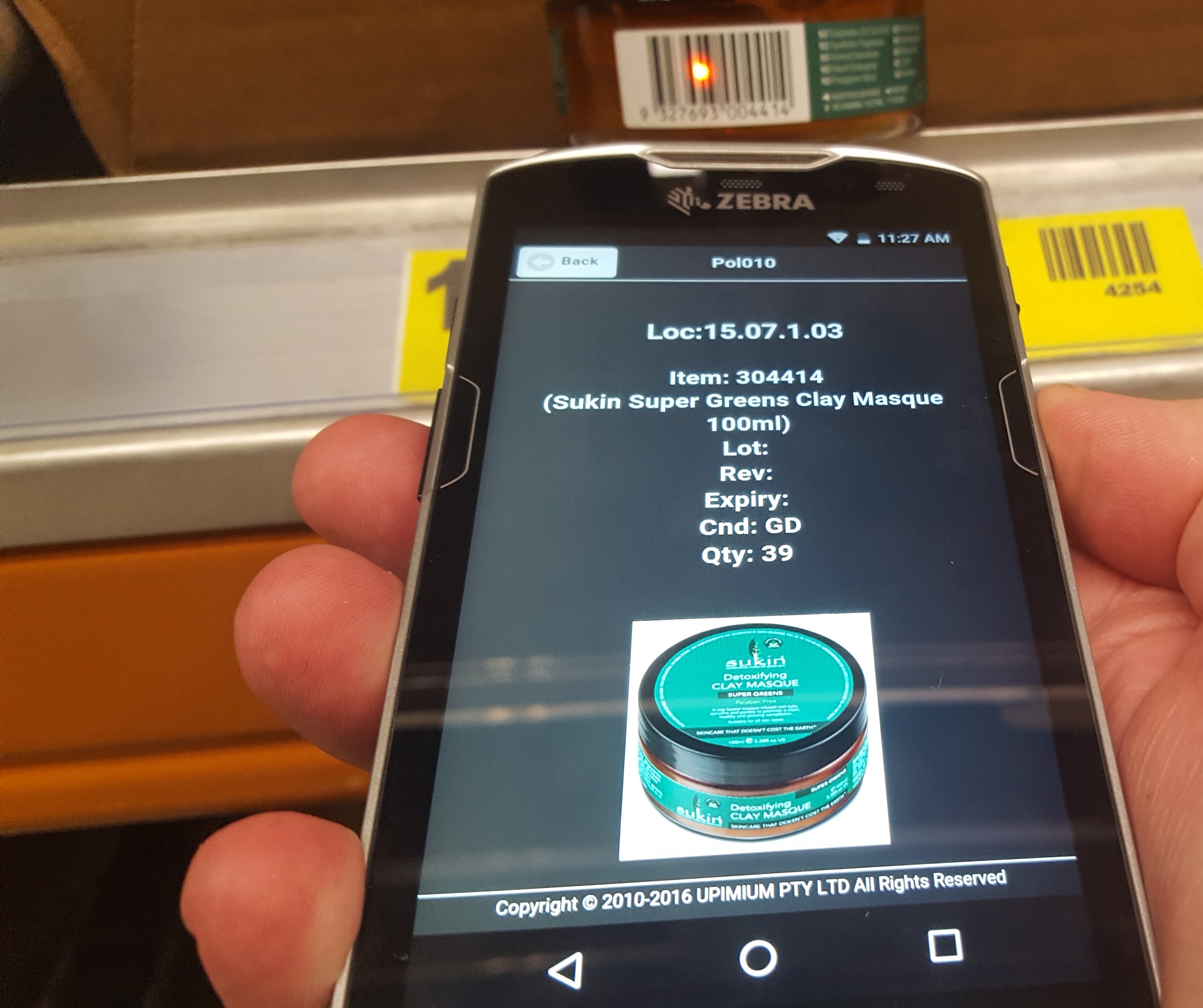 Key WMS Features
Subscription pricing keeps project costs low and flexes with seasonal volume

Works on any device in a browser, Mac, PC, Android, IOS

Android app adds offline transaction capability when out or range of the network

Host on your own server on premises, dedicated cloud server or Upimium Cloud by Logistics Help (see more below)

Rapidly customised workflow

Advanced picking methods for fast and accurate small order fulfillment (eCommerce)

Multi-client for 3PL or multi-company structures

3PL billing management​

Multi-Warehouse

User task management

Labour management

Lot/serial/expiry and custom attribute tracking

QA Hold control
How Does Upimium Integrate with my business?
Upimium connects with your existing business systems to manage the stock movements in your warehouse and confirm the results back to each system. Sales Orders (SO) usually come from either your web store or your business accounts or ERP system. Purchase Orders (PO) will come from your accounts system or you can receive stock without a PO. Upimium also connects with your freight system or directly with your carriers to create consignments and print shipping labels on demand as you pack each order.
Integration with other systems
A Warehouse Management System may be used stand alone but is usually integrated with other systems. We have partnered with a specialist system integrator to provide a cost effective integration service to link Upimium with any system. Integrations with many common business systems are already available and standard integrations may be customised if you need it. All integrations have a cost associated with them and must be maintained over time as needs and systems change. Using a specialist integrator who manages the connections for many businesses is the most effective way to do this. Some of the common integrations already available are shown below.
Upimium WMS Advanced Functionality
There is no better WMS available on the Australian market than Upimium; in functionality, price and speed to implement Upimium is simply faster, cheaper and better. Upimium has a built in suite of support tools for system integration, reporting and the mobile workflow can be rapidly customised to the specific processes in your business. It is a no compromise warehouse system suitable for small and medium business through to the largest warehouse and distribution centres with hundreds of warehouse operators.
Warehouse management systems are one of the most important technological advances in business software over the last thirty years. Yet the technology has mostly been restricted to big business due to the high cost of software, hardware and implementation. At Logistics Help we've broken the cost and implementation barriers to bring this important technology to the SME market.
​We have partnered with the developers of Upimium Warehouse Management Suite to achieve this goal. Upimium WMS has all of the features of leading warehouse systems, It is not a cut price, reduced feature set version of a premium system. It is astonishingly feature rich, and capable of running the most complex business of any size. More than this, the software can be rapidly customised to suit the particular workflows of your business without costly programming.
The low cost subscription model, priced per user, removes the up front burden of capital investment in software so your costs scale in proportion with your business size. Upimium can be hosted on premises or in a dedicated or shared cloud server. The Agile Design Toolset makes implementation fast, which reduces the costs and also the time required to get up and running. Upimium WMS works on any device, including Android or IOS mobile devices and Mac OS or Windows. There is also now a wide array of lower cost industrial grade mobile devices using Android OS which halve the large capital cost that used to be required as part of a WMS implementation.
Vocollect Voice direction is the world's leading voice technology for warehouse systems and is typically an expensive add on subsystem to a WMS. Upimium WMS has built in integration with Vocollect, so no additional subsystem is necessary. This means that you can have the same technology used by large corporations driving productivity in your warehouse.
Time for a WMS Upgrade?
If you have an older warehouse management system it may be showing its age both in support, functionality and ageing Windows mobile devices that are no longer supported. Upimium provides a very cost effective upgrade path to a new platform that can replace your current processes without radical change and build in more sophistication over time.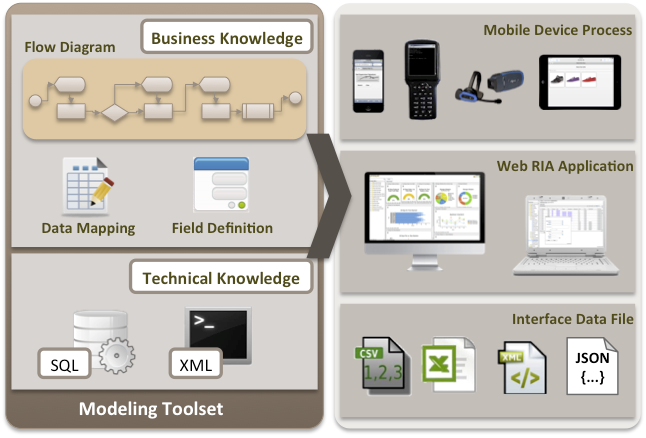 Agile Design Toolset
Implementing a WMS is a substantial project.  A large part of the cost of a system is the implementation costs. Agile design is the ability to quickly adapt the functioning of your software during the inevitable learning curve of an implementation and then keep adapting it as your business changes.  This reduces implementation cost, and the cost of keeping your system up to date with your changing business needs.
Upimium WMS Agile Design Toolset allows you to quickly change
the workflow of tasks performed on mobile devices

transaction report formats such as packing slips and invoices

data extracts for advanced reporting in business intelligence systems

integration with host or ancillary systems to introduce new functionality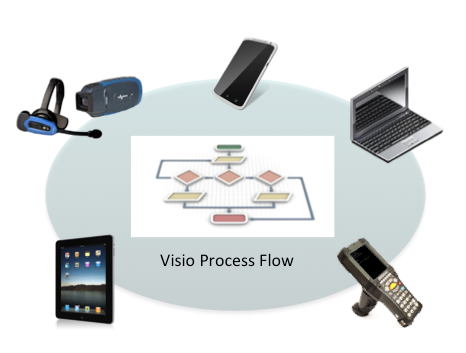 Any Mobile Device
Traditional WMS requires a separate development for each type of mobile device due to the different technologies and screen sizes used by different devices.  Upimium's Write Once Run Everywhere development platform means that you develop your task workflow once and it will run on any device, Telnet, Windows, IOS, Android or Vocollect.
Workflow design is done in MS Visio flow charting software and requires no programming.  Although this is still a technical activity, it means that Logistics Help can design, develop and deploy a new or revised warehouse task workflow without the complexity and time normally taken for customisations by software vendors.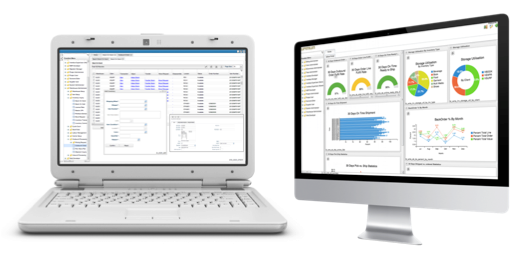 Intuitive Interface
Upimium WMS provides a rich graphical user interface for monitoring warehouse activity and controlling your operations. Customise your control with reports and dashboards that keep your operations on track and your customers coming back.
Logistics Help has partnered with Upimium to bring this important technology to the SME market. ​Upimium is an Australian-based supply chain software company with its origins in consulting and implementation of large scale WMS solutions using HighJump. Upimium WMS was developed after extensive experience in the diversity of customer needs showed that there is never a one WMS fits all solution. Upimium's Supply Chain Mobility Platform was built specifically to provide rapid, non-programmatic customisation to suit any possible customer workflow requirement from a WMS and is extendable to provide mobile solutions to any area of the supply chain.